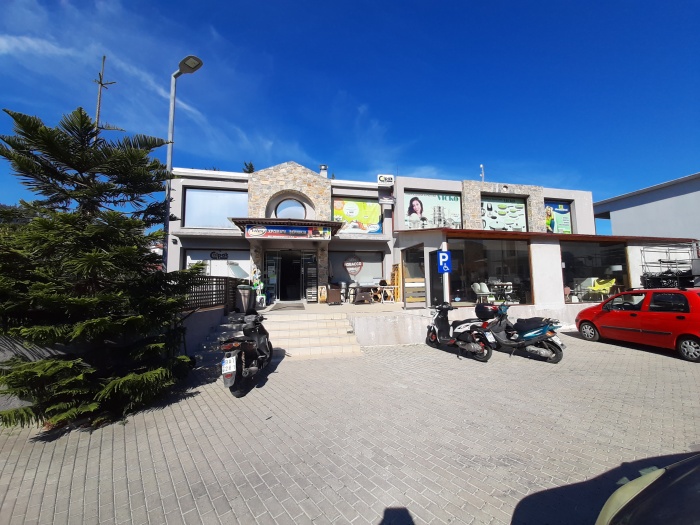 Best Shops – Our History
The "Best Shops Company" started its activity as a new business branch of "Spyrou Group" in May 2006, based in Skopelos Town (Chora) of Magnesia Prefecture – Greece.
Along with the 40-year accumulated experience of "Spyrou Group" and its collaborators, the "Best Shops Company" launched the operation of its first store "Best Shop Skopelos" in 2013, having premises of a total 1.000 m2, conveniently located in Skopelos Town (Chora).
The "Best Shop Skopelos" became essential for the Northern Sporades residences and tourists while its success led to the establishment of the  "Best Shop Skiathos" in March 2018, in Skiathos Town (Chora).
Best Shops Skopelos & Skiathos – Our Philosophy
The philosophy "You Find Everything" prevails in both our stores. Everything for the House, the Garden, the Professional, the Technician, the Hotelier, the Craftsman.
The categories of our goods and products include branded ones of top quality, which are constantly enriched. Simultaneously, our reasonable prices ensure an excellent value for money.
Our company cares for the high quality of the products, the reliability of its services, the innovation and the excellent customer service (payment in interest-free installments, home delivery, etc), at the lowest possible costs.
Our Products – Our Services
The "Best Shops" nowadays operate as Department Stores, with holistic suggestions and solutions as far as the construction, refurbishment and improvement of the house – shop – businesses are concerned, at the best prices.
More specifically, except for the basic products of a typical paint store, at both our stores you will find:
Solar Heaters, Water Heaters, Boilers, Radiators, Tanks-Containers.
Electrical Material – Cables, Wires, Installation Materials, Switchgear, Electrical Panels, Photovoltaic, Lamps, Motion Detectors, Photocells.
All the Plumbing materials and tools.
Watering – Irrigation Products and Supplies.
Hand tools, Power tools, Portable Power Tools, Rechargeable Tools, Handyman Protection, Tool cases.
Adhesives, Foams, Cleaners, Plasters, Putties, Building Mortars, Concrete Improvements.
Ironware (Screws, Plugs, Brackets, Studs, Bolts, Metal Connectors and many more).
Fixtures (in a wide variety, Knobs, Hinges, Shelf Accessories, and more).
Fastening Materials, Loctite Chemical Products, Photovoltaic Fastening.
Hardwood Floors – Flooring.
Tiles, Sanitary Wares, Bathroom Accessories, Basins, Showers & Shower Trays.
Tile Rods, Corner Beads, Plasterboards.
Ladders, Carts, Trolleys, Building Supplies.
Paints, Varnishes, Brushes, Sticks, Spatulas, Sealants, etc.
High-pressure Cleaners, Cleaning Systems.
Appliances, Household Appliances, Air Conditions.
Housewares and Kitchenware Products & Equipment.
Fireplaces, Stoves.
Terrace & Balcony & Garden Furniture, Decorative items.
Garden – Garden Tools, Pots, Planters, Garlands, Decorative Items, Grills and BBQ supplies.
Boat and Car Goods & Supplies.
Hotel, Restaurant and Shop Goods & Supplies.
Seasonal Merchandise (beach parasols, sunbeds, beach chairs, backpack folding beach chair) and much more which are reflected in 10.000 product codes.
Technical Support – Repair and Maintenance
At the "Best Shop Skopelos", we have launched our new service of Electronic Appliances Repair, IT and Network Support. Additionally, we receive Devices from Skiathos Island through "Best Shop Skiathos" as well as from the Alonissos Island (dispatched).
All repairs are carried out by a Qualified IT & Computer Systems Engineer.
Specifically, we take on:
Computers and Laptop Repair – Upgrades and Functional Testing
Mobile Phones Repair
Television Repair
Printer Assessment – Repair
Purchase and Installation of Antivirus Systems
Change of UPS Batteries and Operation Checking
Laptop Power Supplies and Check
Remote Technical Support (Skopelos, Skiathos, Alonissos)
Home and Office network installation (including wireless network) – ensuring security
Implementing technical maintenance and Windows update
Windows Format
Virus detection and removal, software installation and configuration
Block annoying pop-up messages, remove adware/spyware
Fix e-mail and software problems
Repairing printers, scanners, digital cameras, dealing with all technical problems
Speeding up your computer and increasing its performance
Installation, configuration and training on new software and hardware
Assistance in the process of backing up data, transferring data from one PC to another
Repairing error messages or "frozen" screens and much more!
Note: The technical check, the trouble diagnostics and the repair budget are completely FREE of CHARGE.
THE SUMMER (2022) OPENING HOURS OF OUR STORES
MONDAY        07:30 am to 20:00 pm
TUESDAY        07:30 am to 20:00 pm
WEDNESDAY  07:30 am to 20:00 pm
THURSDAY     07:30 am to 20:00 pm
FRIDAY            07:30 am to 20:00 pm
SATURDAY      07:30 am to 18:00 pm
SUNDAY          09:00 am to 14:00 pm
We will be glad to serve you!