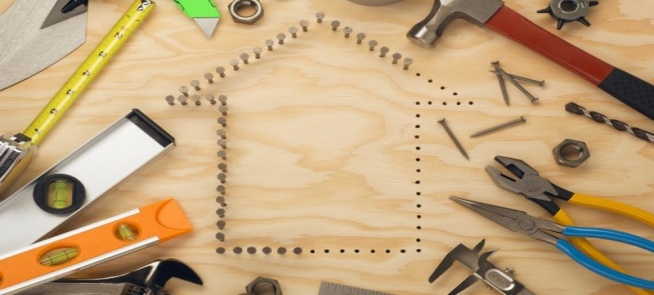 10 HAND TOOLS THAT SHOULD BE AVAILABLE IN EVERY HOUSE
In every house, the time comes when a problem needs to be fixed or you will want to venture on a DIY (Do It Yourself) project From nailing or screwing on the wall to assembling a chair or furniture or just dealing with basic plumbing/electrical tasks.
Nowadays, younger generations usually do not deal with cases as the above, but rather prefer to invite a technician/specialist or a relative/friend who has the relevant knowledge and experience. However, it would be preferable for one to obtain the basic knowledge regarding fixing problems in their house. Do not forget! Dealing with and completing any fixing projects will automatically makes you feel proud of yourself, creative and independent while saving money at the same time!
Which are the basic hand tools for every house?
The hand tools that could be available in every house are numerous! However, we recommend you start from the basic ones which are listed below. See our suggestions which we hope will help you understand further the use of every basic hand tool and encourage you to adopt your own "magical" toolbox!
• Hammer: The hammer is the absolutely basic tool that needs to exist in every house. Do you want to place a nail on a wall in order to hang your favorite portrait? Or maybe assemble a piece of furniture that you have just bought? The hammer is the required tool!
• Screwdrivers: As you may already know, there are many types of screwdrivers, the straight, the cross-head and the power tester. Furthermore, there are screwdrivers in many sizes. You should know that for each project, you need to use the right type of screwdriver. The wrong one could cause damage to the screw as well as to the tool itself thus having the opposite results.
• Screws:As important as a screwdriver is, its "mate", the screw. Each house should have screws in different sizes which could be used in any fixing or DIY task, from cupboards and furniture to light fixtures.
• Wrenches: French wrenches, German wrenches, There are many types of wrenches, all of them being necessary for any kind of fixing. The French wrench is the most practical one as it is adjustable and can be used for all sizes of socket wrenches and bolts. On the other hand, the allen wrench is an ideal tool for fixing musical instruments or bicycles.
• Measuring Tape: There are many types of measuring tape, from the simple wooden one to the roll tape as well as different lengths, depending on one's needs. Certainly, it is necessary to have a measuring tape that will help you buy a piece of furniture in the right dimensions, measure a wall, a painting, a counter, a door or just use it in any other project.
• Level: Do you need to repair a piece of furniture, place some shelves or just hang your favorite painting on your wall? Then it would be reasonable to use a level in order to have the best results with the right, straight proportions.
• Pliers – Nose Pliers: There are certainly many types of pliers, each one with different use. It may be redundant to have all types of pliers. However, it would be useful to just have one pair of simple pliers as well as nose pliers, basic tools for all basic tasks. Simple pliers will help you dislodge nails or hobnails from walls and furniture whereas a pair of nose pliers with cutter would be necessary in electrical tasks.
• Driller: Either electric or rechargeable (with batteries), a driller would be very useful for anyone. Just choose the type that suits you best! What we would surely recommend is that you choose a driller with adjustable speed and reversible direction so as you can screw and unscrew easily.
• Cutter:A very simple but also useful tool. Have you received a package or want to apply some plastic or canvas somewhere? Whenever you need to cut or open something, then a cutter would play the primary role!
• Adhesive Tapes: Masking tapes, insulating tapes, packaging tapes… there are various adhesive tapes, all of them necessary for every household. Use some insulating tape on power cables for insulation and safety or some masking tape in a variety of household tasks.
We have just enumerated 10 of the most basic hand tools that should be available in every household. Of course, there are numerous others. Nevertheless, if you wish to deal with basic daily fixings or DIY makings, these ones should be enough in order to complete your tasks easily.
Additionally, we suggest you take care of the tools you buy. Not only is it a shame to have them misplaced in your house but it is also a waste of time as whenever you need them, you will have to look for them around the whole house.
It would be wise if you buy a toolbox and store them somewhere free from dust or moisture. In this way, you will always have them tidy and at your disposal at any time!
Visit one of our Best Shops stores in Skopelos and/or Skiathos islands and you will be surprised at the amazing variety of tools they have, ready to cover all your needs. Are you wondering which tool is the suitable one for the project you want to carry out? Just ask our experienced personnel who is ready to advise you properly and guide you to the best possible purchase of tools.
We would be glad to serve you!