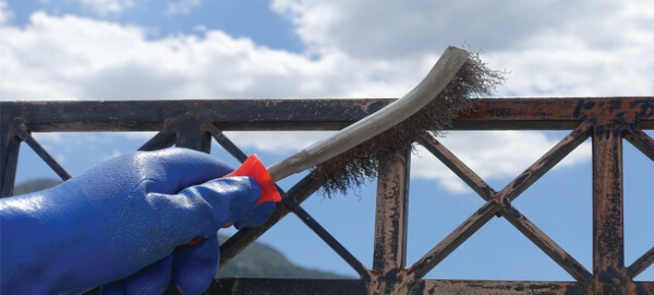 Painting Metal Surfaces – How can we paint them, simply and effectively?
Is it time to paint the railings of your balcony or yard, in order to either refresh their color or because they have started rusting? If you do not have much knowledge of painting, do not worry! The process is very simple and once you have the essential materials/tools, you will soon have your railings or any other metal surface renewed without much effort.
Painting a Metal Surface: What materials will I need?
Color: Select a specific paint for metals, e.g. enamel in liquid or spray form. It is advisable to choose a day with no intense sunlight or heat, as the paint will dry very quickly, with the risk of the final layer being cracked. Furthermore, do not use large amount of paint for each coat. It would be better if you apply 2 or more coats of paint. Alternatively, instead of enamel, you could use anticorrosive paint in liquid or spray form. Although the anticorrosive paint is more expensive than the enamel, it is a much better choice as we do not have to remove the rust completely nor does it need a special undercoat (anticorrosive primer).
Paint Thinner: Many paints, especially for metals, are not water-soluble. Therefore, you will need a corresponding paint thinner in order to do the dilution. Moreover, the paint thinner, as you will see below, can be also used for removing grease from the metal surface.
Anticorrosive Primer: Apply anticorrosive primer before applying the paint color. As its name implies, the anticorrosive primer will protect the metal surface against rust.
Painting a Metal Surface: What tools will I need?
Initially, you have already purchased the appropriate and quality color paint, thinner paint and primer. Nevertheless, do not forget that the right tools will also make the difference, leading to the perfect result! Which are those tools?
Paint Roller/Paint Brush/ Paint Sprayer/Paint Gun: Of course, you do not have to possess all these! However, you can choose whichever is most convenient for you and depending on the extent of the surface you want to paint. For instance, the paint gun is considered to be the ideal tool for a perfect and uniform finish for narrow surfaces (e.g. railings) as well as wide, large surfaces (e.g. metal cabinets). If you do not have a paint gun, just use a paint roller or a paint sprayer.
Sandpaper/Putty knife/Pulse Sander: Use one of these very essential tools in order to smooth the surface and remove as much rust as possible.
Painting a Metal Surface: The process step by step
Undoubtedly, the process of painting metal surfaces is similar to the process of painting wooden surfaces. Therefore, if you have already painted wooden objects, the process will seem to be even easier
At first, we have to prepare the surface that we will paint. So, we clean it very well with a wire brush in order to remove rust, dirt, dust etc.
We remove the grease from the surface, using some cleaning thinner for metals. We leave the surface utterly clean and let it dry.
Afterwards, we smooth the surface with a sandpaper. Tip: if the surface is large and for even smoother results, you can use pulse sander instead. Once we complete this step, we clean thoroughly the surface.
Then, we apply the anticorrosive primer, special for metal surfaces. It is suggested you apply the primer in two coats, so when the first one gets dry, we apply one more coat before applying the color paint. Tip: When the second coat of primer is dry, we optionally smooth one more time the surface with sandpaper. This will help to achieve an even better application and adhesion of color paint.
If there are any cracks or dents on the surface, we can fill them with polyester putty and afterwards, we sand again the surface to get smooth.
Now that we have prepared the surface, we are ready to start painting!
Painting a Metal Surface: how can I delay the appearance of rust?
You have successfully completed the painting of the metal surface. Now, you may wonder whether there is a way to keep it "healthy" for as much time as possible, i.e. not to start exhibiting rust very soon.
A very important step to prevent the surface from prematurely exhibiting rust is to sand it very well as well as thoroughly paint it in a 2mm thickness on corners and joints. Especially for outdoor surfaces exposed to weather conditions, e.g. railings, rain and water when washing the veranda/balcony will accumulate in all these cavities.
Another wise step is to repeat the process of sanding, priming and painting once a year in those areas that are more sensitive or have started rusting. In this way, we will be able to prevent the rust from spreading to the rest surface.
Painting a Metal Surface: Noteworthy advice!
Finally, a highly significant tip: choose to paint the metal object of your interest in the proper season if you wish to have excellent and long-lasting results. Especially in cases of outdoor surfaces, such as railings, it is recommended to paint it in spring or autumn. Relatively warm and dry weather conditions are the ideal ones. A heat wave would make the paint "boil" thus creating bubbles on the surface. Humidity, on the other hand, would not help the paint adhere thus making the paint color peel off very soon.
In conclusion, we invite you to visit one of our "Best Shop" stores in Skopelos and Skiathos islands where you will find a wide range of paints and paint tools, for any type of surface.
Furthermore, our experienced personnel is always ready to answer any questions you may have, appropriately advise you and guide you to the best possible purchase of products, according to your needs and demands.
It would be our pleasure to serve you!