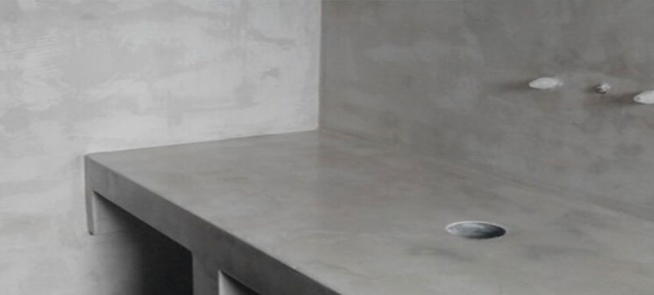 RENOVATE YOUR HOME WITH FORGED CEMENT!
Forged Cement: What is it?
You may already know what exactly the forged cement is. Or you may have heard about it, without though knowing what it is. However, you certainly have met it in case you have visited Greece, as it is a technique of building and decoration broadly used in Greece and mainly in Greek islands, such as the Cyclades. Indeed, forged cement has its roots in Ancient Greece and principally in Aegean islands, likewise in other Mediterranean countries too.
The forged cement is a mixture that usually consists of pozzolana, ceramic powder, quartz sand and hydrated lime. Ultimately, it is a mixture of materials that does not include cement, contrary to the simple cement technique which uses cement as the basic material.
Forged Cement: Its advantages
In addition to the aesthetic quality that can offer to a room as well as its availability in a great variety of colors, forged cement has many advantages:
It is a natural and ecological low-impact product without any fallouts for humans or pets.
As the mixture for the forged cement does not include cement, no floor cracks are created
It has excellent resistance, antibacterial properties, great waterproofing and it is non-skid. This is the reason why the forged cement is ideal for "wet places", e.g. bathroom, pools, spa etc.
Forged cement does not have joints, a very important and positive property as dirt is not accumulated, thus getting cleaned more easily.
Forged cement can be applied directly onto surfaces such as plasterboard, tiles, mosaic or concrete, without the need to be ripped out beforehand. However, you should be aware that any moisture underneath the surface will be trapped (due to the sealant property of the forged cement), potentially causing problems in the future. Therefore, before applying forged cement, the possibility of rising damp existing underneath the floor should be ruled out. Even more, the stabilization of the floor should be ensured.
Forged cement is an economical solution as it is a cheaper technique compared to other ground covering techniques (e.g. tiles, marble, etc.). Moreover, it is not a time-consuming technique so it does not cost in man-hours, always in comparison with other techniques that require more working hours.
Forged Cement: Where can it be applied?
Forged Cement could be applied almost everywhere! Thanks to its properties, it can be applied at professional venues as well as in houses, both indoors and outdoors. Ostensively, two rooms that could "take off" after the application of forged cement:
Bathroom: As already mentioned, thanks to its waterproof property, forged cement is highly suggested for bathrooms . Its application onto the floor is an ideal solution as it is extremely non-skid, offering safety and comfort. Moreover, its application on the wall of your bathroom will provide a sense of luxury, while you have the potential to choose between vitreous forged cement, forged cement with matte or textured touch.
Do you wish to enhance the aesthetics of your bathroom and feel like you are on holidays in a Cycladic island? Then we would recommend you choose a built-in shower as well as surfacing other sanitary items (washbasin or bathtub) with forged cement. The result as a whole will undoubtedly reward you, satisfying even the most demanding aesthetic preferences!
Kitchen: If the kitchen is a much-loved place for you, then refurbishing it with forged cement is certainly an ideal option! Start by applying it on the counter of your kitchen, choosing the color that will give a modern or a traditional and minimal aesthetic sense, depending on your preferences. Except for the aesthetic quality and the exceptional texture that will provide your counter with, it will also make it easier for you to clean it while offering a great resistance to high temperatures that usually prevail in a kitchen.
Of course, forged cement can be also applied to the kitchen sink, promising to protect it against dampness. Choosing the appropriate color for your kitchen sink will perfectly bend with the color of your kitchen counter, a dazzling harmony that will provoke a special impression on both you and your guests!
Forged Cement: Its disadvantages
All building techniques have their pros and cons. In like manner, even though having many advantages and being increasingly preferred as a technique for renovation and decoration, forged cement has its own disadvantages, albeit few. The disadvantages that could be mentioned are the following:
An important disadvantage of forged cement is that after its application, we cannot proceed with odd jobs. Therefore, before applying forged cement onto a surface, you should have already completed any works that are due to be done.
Forged cement is sensitive to insoluble bleaches and strong or concentrated cleaning agents generally So, prefer using very simple household cleaners.
In the list of disadvantages, we could possibly include the fact that the forged cement needs maintenance every 3-4 years by applying a special varnish on the surface On the other hand, this is not such a disadvantage as other materials (e.g. tiles), when wearing away, can no longer be maintained and need a complete replacement.
Forged Cement: Can I apply it myself?
You have finally made the decision to renovate your home with forged cement. A common question is whether you can do the work yourself or not.
We would suggest you have a specialist craftsman to undertake the application of forged cement, because a wrong preparation before applying it or applying it onto an inappropriate surface would possibly be disastrous. An experienced craftsman with the appropriate knowledge as well as an engineer can check and determine whether the surface is appropriate in terms of its mechanical resistance. Furthermore, each surface needs a different preparation before applying forged cement onto it (e.g. priming, application of material to smooth the surface, etc.). Consequently, it is advisable to not experiment on your own, particularly if you do not have sufficient knowledge upon building techniques and building materials.
We are waiting you at our "Best Shop" stores in Skopelos and Skiathos islands with a great variety of high quality building materials as well as numerous products for your home and your needs. Our experienced personnel is always at your disposal to advise you upon works that you may wish to do in your house and to guide you appropriately in the optimal purchase.
We would be glad to serve you!