Painting the House – How to choose the right color for your home?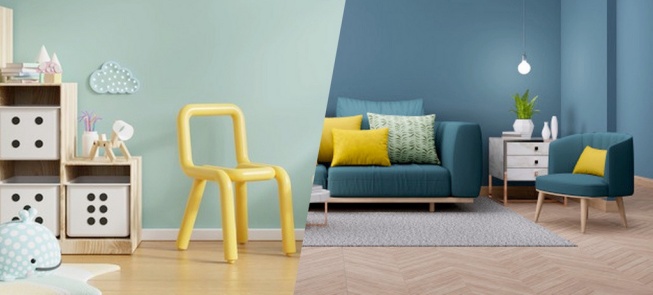 The time comes when you are about to either move to a new house or just refurbish your home. Something that you may think about is painting the walls, however you might puzzle over which color you should choose.
Choosing a color is not only a matter of personal taste but it also presupposes several basic criteria. Below, you will find some useful advice that will help you choose the appropriate color that suits both yourself and your home!
Colors: how do they affect our mood?
As you already know, each color can trigger a different feeling.Some colors cause energy, vitality whereas others help us relax. Several colors might subconsciously make us depressed whereas others cause a feeling of happiness and wellness. Having this theory as a starting point, we can choose the right color for every room of our house more easily.
What color suits each room?
Bedroom: The bedroom is probably our favorite room. It is our private- personal room where we relax and spend time with ourselves. Therefore, a pale shade of color that offers relaxing moments, a sense of security and care is ideal for one's bedroom. Pink, brown and pale shades of blue and purple are the ideal colors. Otherwise, the green color is a proper alternative choice as it is a symbol of harmony with soothing properties and assists in one's concentration.
Living Room: The living room is another favorite room as it provides moments of relaxation and wellness as well as a sense of hospitality for your beloved ones. Therefore, we would recommend you use a pale orange or purple tint. Furthermore, the neutral beige color is an ideal choice for those who prefer a minimal decoration while the chocolate color will offer your guests a greater sense of coziness.
Kitchen: The red color is a good option for your kitchen as it provides energy and creativity as well as whetting your appetite! Α light green (vert amande) could also provide a retro style and an air of discretion in your kitchen. If you prefer a minimal style, then a light grey or ecru would also be great solutions, without though missing a trace of elegance.
Dining-room: Likewise kitchen, red walls in your dining-room would be a great option because, as mentioned before, it is a color that whets one's appetite! However, you can also use light grey color as it is neutral and suits perfectly with your table made of natural wood! The blue raf or maroon colors would offer your dining-room a sense of relaxation and luxury.
Bathroom: Would you like a stylish and cheerful bathroom? Then choose a blue or mint color. In this way, you will provide your bathroom with a vintage character and simultaneously a sense of luxury.
What else should I take into account when choosing a color?
Apart from all these above, there are additional criteria that one should consider concerning the choice of the right color.
Size of the Room: If a room is small, then we suggest you choose pale tints that will make your room seem bigger. In case of big rooms, then you can choose darker shades.
North and South Rooms: The rooms looking at the South tend to be brighter and sunny, so choose darker hues. On the contrary, northern rooms would obviously need a lighter hue.
Color of the ceiling: When looking at the ceiling, it is as we look at the horizon. It is advisable to choose light hues, paler than those of the walls, so you will feel having a greater field of vision. A dark color would surely make you feel "overwhelmed" unless your room has a high ceiling. In such case, you can use a darker tint of color.
Color of the floor: For an even righter choice of color, we suggest you take into account the color of the floor too. If the room has a dark-colored floor, choose a pale color paint for the walls. If you have wooden floor, then you surely have more options, with the white, brown, orange, beige, blue or green colors being the best ones.
Combining colors: How to properly combine two or three colors?
For a harmonic result, you also need to select the right combination of colors. Read below some helpful advice:
Monochromatic palette: This is a single color, though with different shades and tints. The same color on walls, objects or carpets, however in different tints will offer a minimal elegance in your room!
Complementary colors: The combination of warm and cold color (i.e. blue – orange, purple – yellow or green – red) will create the harmonious atmosphere you were looking for in your room. The complementary colors create the required contrast and vibrancy, complementing each other.
Analogous colors: If you prefer a more relaxing result, without contrasts, just choose the combination of analogous colors (i.e. yellow – yellow/orange – orange or blue – light blue/green – green).
Triadic palette: This is a combination that aims at a rather vivid and bright result (i.e. red – yellow – blue). Ideally, it reflects people with strong personality, e.g. young people.
Do you still wonder which color is the right one for your house? Visit one of our "Best Shop" stores in Skopelos or Skiathos island and our experienced personnel will advise you on painting your house. The spectrometer available at our stores will facilitate the process of choosing the best color Furthermore, the wide range of products in our paint department will surely satisfy all your needs and personal tastes!
Apart from the choice of colors, at our stores you will find all the necessary tools, materials and accessories to paint your house!
We would be glad to serve you!