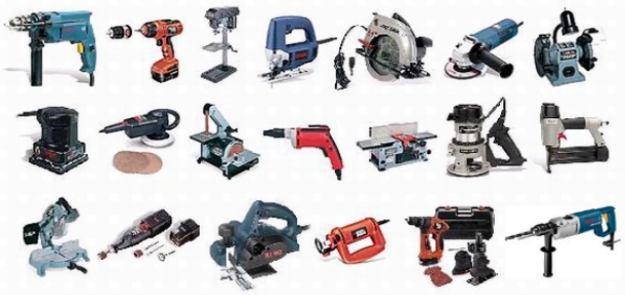 Electric Hand Tools – What you should know about them
Apart from the necessary hand tools that should be available in every house (read our relevant article here), there are several electric hand tools that you may need sometime either for a fixing task or DIY (Do It Yourself) makings
In this article, we are going to analyze the functions of some basic electric hand tools. Initially, the term "electric hand tool" obviously means a tool that functions either with electric power or with rechargeable batteries. Both of them have their own advantages once the former can operate constantly while the latter has an operation autonomy of about 4-5 hours. However, it is more practical in outdoor areas or generally speaking, areas without electric power. The choice is up to you, depending on your needs.
If you are a construction worker, a carpenter, a plumber or an electrician, you certainly know the features and use of each electric hand tool. If you otherwise want to do a manual work in your home or your garden or just want to gain some basic knowledge upon electric hand tools, read on.
Which are the basic electric hand tools?
Hammer Drill: The hammer drill is the mostly necessary and known tool among all electric tools, as one would surely need it sometime for a making in his house. This valuable tool will help you easily and precisely open holes and screw on any kind of surface.
Pulse Sander: The necessary tool for burnish of surfaces, particularly the thin and flat ones. There are various types of sanders. Apart from the pulse sander, there is the rotary sander (for burnish of flat and curved surfaces) as well as the delta sander (for all points of the surface).
Angle Electric Wheel: The angle electric wheel is another tool for grinding and burnish of a surface as well as for cutting various materials. However, you should know that the angle wheel is considered to be one of the most dangerous electric hand tools. If you are not familiar with its use, you should better address to a qualified person so as they can show you exactly the way it functions as well as the safety rules.
Electric Jigsaw: The electric jigsaw can be used for cutting any kind of surface, from wooden to metal or aluminum ones. Furthermore, it could be used in gardening, for pruning or cutting branches.
Heat-soldering Gun: That is a very simple, easy-to-use tool even for the most amateur "tinkerer". As its name indicates, it helps soldering surfaces, cables on the wall and is ideal for any kind of crafts or closing cracks.
Hot-air Gun: The hot-air gun is another useful electric hand tool, ideal for soldering synthetic or metal objects or removing paint from a surface.
Stirrer: Are you going to paint your house or do some work that demands mixing various materials, such as glue or plaster? Then, stirrer is the necessary tool that will help you mix the materials you need.
Blower: An ideal tool for those having garden or want to clean a huge area. The blower can help you remove leaves and other oddments, mounting them up in one place.
Just like hand tools, there are plenty of electric hand tools, in various types and with different uses, depending on their features. As far as electric tools are concerned, one may not need all the above mentioned in their daily life. Nevertheless, they comprise the most basic ones that maybe one will need sometime for their house or their garden.
Of course, do not omit to obtain a toolbox where you will keep your tools tidy – electric and non-electric ones – providing them protection from dust or moisture
Visit one of our "Best Shop" stores in Skopelos and in Skiathos islands, where you will find a wide range of electric hand tools, ready to meet all your needs. In case you do not know which tool is the appropriate one for the work you want to do, do not worry! Just feel free to ask our experienced personnel, they will guide you to the best possible purchase of tools.
We would be glad to serve you!