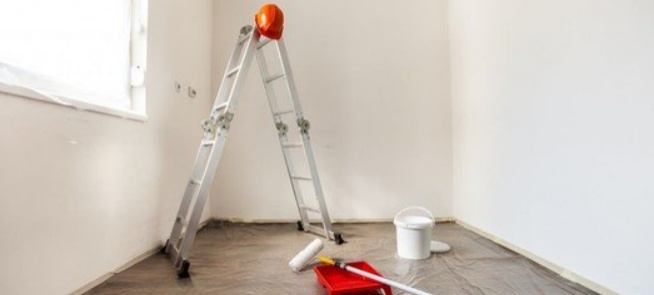 HOW TO PREPARE FOR PAINTING: A COMPLETE GUIDE
Μήπως έχει έρθει η ώρα να βάψετε τους τοίχους του σπιτιού σας; Εκτός από την επιλογή του κατάλληλου χρώματος, το οποίο θα συνάδει άψογα τόσο με τα προσωπικά σας γούστα όσο και με το χώρο τον οποίο πρόκειται να βάψετε, ένα άλλο απαραίτητο βήμα είναι η σωστή προετοιμασία ώστε να έχετε άριστα αποτελέσματα.
Consult our full guide below for the right and as easier preparation as possible and primarily for perfect results that will surely impress you.
Painting the walls: What type of paint should I choose?
As you may already know, there are various types of paint in the market, depending on the surface that is to be painted. More specifically:
Ecological: It is probably the ideal paint to choose, as it is environmentally friendly. It is odorless, hypoallergenic and free of toxic substances thus being ideal for houses where vulnerable people (e.g. elderly, pregnant women or babies) or pets live. The only downside we could probably mention is its higher cost compared to other types of paint and this is plausibly because of its properties.
Plastic: This is the most common type of paint for indoors. It has plenty of advantages, such as being spread easily and offering great homogeneity.
Fungicide: If you are going to paint your bathroom or your kitchen, an ideal choice would be to use fungicide paint As its name suggests, this paint helps prevent the growth of fungi, a phenomenon that is very usual in such rooms.
Satin: This type of paint belongs to the luxurious category, offering a velvety texture and excellent durability. Thanks to these properties, satin paint is recommended for the living room or the bedroom so as to show them off to the maximum degree.
Painting the walls: How to properly prepare the room and the walls that I am going to paint?
Αρχικά, το πρώτο βήμα προφανώς είναι να αδειάσετε το χώρο τον οποίο πρόκειται να βάψετε. Όσα αντικείμενα ή έπιπλα δεν μπορούν να απομακρυνθούν, όπως επίσης και το δάπεδο, μπορείτε να τα καλύψετε με εφημερίδες ή ένα ειδικό προστατευτικό νάυλον. Επιπλέον, μπορείτε να καλύψετε τα κουφώματα της πόρτας ή των παραθύρων, τα σοβατεπί και τους διακόπτες με χαρτοταινία, η οποία αφαιρείται εύκολα μετά το πέρας της διαδικασίας, αφήνοντας τα σημεία αυτά άθικτα από μπογιές. Προσπαθήστε ωστόσο να στερεώσετε όσο καλύτερα γίνεται τόσο το προστατευτικό νάυλον όσο και την χαρτοταινία ώστε να αποφύγετε τυχόν παρείσφρηση χρώματος στα σημεία που δεν θέλετε να βαφτούν. Μπορείτε να χρησιμοποιήσετε μία σπάτουλα στόκου ώστε να σφραγίσετε εξ ολοκλήρου τα σημεία αυτά.
Αφού γίνει η γενική προετοιμασία του χώρου, όπως αναλύσαμε παραπάνω, το επόμενο βήμα είναι να γίνει ο έλεγχος των τοίχων που πρόκειται να βαφτούν. Πιο συγκεκριμένα, εφόσον υπάρχουν ατέλειες στον τοίχο (φθαρμένα σημεία, βαθουλώματα ή ρωγμές), καλό είναι σαφώς να στοκαριστούν και να λειανθούν πριν το βάψιμο. Επιλέξτε τον κατάλληλο στόκο και αφού τον εφαρμόσετε, αφήστε τον να στεγνώσει. Έπειτα, τρίψτε ελαφρά την επιφάνεια με ένα γυαλόχαρτο από κάτω προς τα πάνω έως ότου αυτή λειανθεί. Τέλος, μην παραλείψετε να καθαρίσετε τον τοίχο με ένα νωπό πανί ή σφουγγάρι με ελάχιστη ποσότητα απορρυπαντικού πιάτων ώστε να απομακρυνθούν τυχόν σκόνες. Αυτό θα βοηθήσει στην καλύτερη εφαρμογή και πρόσφυση του χρώματος.
Ένα ακόμη σημαντικό βήμα για τη σωστή προετοιμασία της επιφάνειας είναι να ελέγξετε εάν ο τοίχος έχει λεκέδες ή κιτρινίλες (π.χ. από καλοριφέρ). Σε μία τέτοια περίπτωση, καλό είναι να εφαρμοστεί το κατάλληλο αστάρι ώστε να απομονωθούν οι λεκέδες αλλά και για να μεγιστοποιηθεί η πρόσφυση του χρώματος. 
Painting the walls: Accessories and the Procedure
Once you have finished all the steps described above, you are ready to proceed in painting the walls! Read the relevant steps below which will certainly reward you with a fantastic result!
 At first, as an initial step, you have to clean the paint roller that you are going to use. You can clean it with some water and soap, rub it afterwards on your arm or upon a clean surface about 2-3 times and then let it dry completely before starting painting. This will help having a more uniform painting process, without any flaws being left.
 Start painting the "cutting" spots with a paint brush. Such spots are those that cannot be painted with a roller, such as corners, baseboards or the spots uniting the walls with the ceiling. Immerse your brush into the paint up to the middle, gently pour off the extra quantity of paint and apply!
Μόλις ολοκληρώσετε το βάψιμο των «κοψιμάτων», μπορείτε να προβείτε στην εφαρμογή του χρώματος με το ρολό. Αφού έχετε γεμίσει ένα σκαφάκι βαφής με το χρώμα της επιλογής σας, βουτήξτε το ρολό και έπειτα «τρίψτε» το ελαφρά στο επικλινές μέρος ώστε το χρώμα να απλωθεί ομοιόμορφα σε όλο το ρολό και να φύγει η παραπανίσια ποσότητα βαφής. Εφαρμόστε στον τοίχο με κατακόρυφες κινήσεις.
 Tip: It is advisable to paint one wall at a time. So, firstly paint the "cutting" spots of the wall, then paint the whole wall with the roller and afterwards, repeat the same procedure with the next wall. This will maximize the chances for even results.
 While painting, have a stirring blade at your disposal which is initially important for diluting the paint as well as useful for the next phases of the process. In case you do not have stirring blade, you could rather use a piece of wood. Moreover, another important tool is the ladder that will help you reach high spots and the ceiling.
We are waiting you at our "Best Shop"stores in Skopelos and Skiathos islands where you can find a wide range of paints and any kind of tools and accessories for perfect painting results. Our experienced personnel is always at your disposal to advise you properly and guide you to the best purchase of products.
We would be glad to serve you!