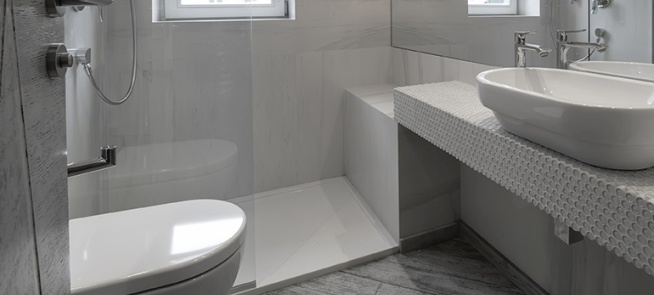 Bathroom Remodeling Ideas: How to transform your bathroom!
Bathroom is a very important room in every house and it could be said that it "symbolizes" the personal grooming as well as one's refreshment. Therefore, it is recommended to be properly configured and decorated –of course, in accordance with one's personal tastes-, something that will surely lift our mood whenever we visit it.
Below, you will find some ideas that will help you transform your bathroom by offering it the proper touches that will suit your personal tastes, facilitating at the same time your daily life while using it!
#1 Gain Space
Is your bathroom relatively small thus having all your personal and hygiene items scattered all around? Then, you should firstly create storage spaces that will help you tidy up and organize them, thus ensuring the optimal atmosphere and comfort in your bathroom!
First and foremost, put all your accessories and hygiene items (towels, cosmetics, toilet paper etc.) into the bathroom cabinets or upon shelves. In case such spaces are still not enough, then you could place some extra shelves into the cabinet (choose plastic ones in case you want something cheap), which can create more space for tidying objects up.
Place some hangers and hooks on the walls so as to hang various objects, such as towels or cosmetic bags and put a pretty basket for your laundry in a convenient spot such as under the washbasin.
Furthermore, you can place a vertical decorative ladder (e.g. made of natural wood or bamboo) upon which you will hang your towels, shampoos or cosmetics etc.
Of course, you can take advantage of your washing machine too! Just put a chic cloth on your washing machine and place upon it several items, e.g. your cosmetic bag or a pretty vase with your brushes.
#2 Put Some Color
Just like any other room in a house, a bathroom without color is dull and "cold". So, just add some color accents in your bathroom through very simple steps. For instance, prefer colorful towels as well as a colorful bath curtain with patterns and use various bath items, such as soap dishes, soap dispensers or toilet cover seat with color. Moreover, give a beautiful tone to the bathroom cabinet by painting it with a color shade that would ideally "blend" with the rest of the room and its shades.
For even more spectacular results, paint the walls of your bathroom, e.g. in a mint or blue tint or even add wallpapers!However, should you choose to install wallpaper in your bathroom, you have to be sure that the wallpaper is of high quality with specific lamination so that it will not be damaged due to moisture.
#3 Change the Taps
You may think it is a trivial change, but changing the shower and washbasin taps will indeed make a difference to the appearance of your bathroom. We would suggest you choose taps made of copper or bronze which except for their nice appearance, they also have great efficiency.
#4 Change the Washbasin
If your bathroom has a pedestal washbasin, an ideal change is to replace it with a counter washbasin.Apart from aesthetic reasons, a counter washbasin is highly practical, particularly if your bathroom is small, as it will provide you with the capacity of storing various items, so your bathroom will always be tidy. To elevate the aesthetics of your bathroom, you can place a mirror cabinet that will certainly make a stunning set along with the counter washbasin!
#5 Install Glass Shower Door
Replacing the shower curtain with glass shower door will make your bathroom seem more modern while it will keep the room clean as it prevents water from spreading all around.
#6 Apply Forged Cement in your Bathroom
If you wish to transform your bathroom to an even greater degree, then consider applying forged cement.The technique of forged cement is optimal for the bathroom as it is extremely non-skid (thus being ideal for floor), it offers a sense of luxury and simultaneously, it is an economical solution compared to other covering techniques, e.g. tiles. Apart from the floor, forged cement can also be applied to walls, even to the bathtub/shower or washbasin. You can read more about forged cement here. .
#7 Κάντε το Μπάνιο σας…Πράσινο!
Add in your bathroom! indoor plantsThe plants will give your bathroom a bohemian tone and needless to say, they will elevate your mood whenever you visit it. It is highly suggested you choose plants that are ideal for areas with moisture while they can absorb large amounts of it, e.g. fern. Even more, pretty vases or jars with dried flowers are an ideal alternative choice in case you do not wish to take care of plants.
#8 Accent your Small Bathroom
If your bathroom is small, it is recommended that the white color prevails in the room. From the tiles and the hygiene items to various accessories, white color will accent your small bathroom, making it look larger. Of course, a bright white lighting will also play a significant role to this. Extra tip: Elevate the aesthetics of your white bathroom by adding touches of wood, e.g. a wooden bathroom cabinet! Another important tip to highlight your small bathroom is to place an elegant mirror, for instance on the cabinet door or just above the washbasin.
Are you looking for furbishing your bathroom? We are waiting you at the Stores «Best Shop» in Skopelos and Skiathos islands with plenty of bathroom products so as to choose the ones that suit best your personal tastes as well as your bathroom configuration. Our experienced personnel is always at your disposal to guide you to the ideal choice of items so that you can create a pleasant and of high aesthetics bathroom!
Ανυπομονούμε να σας εξυπηρετήσουμε!