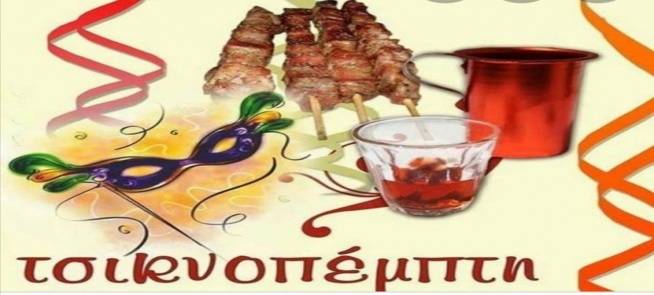 TSIKNOPEMPTI: TIPS FOR THE PERFECT PLANNING OF BBQ!
"Tsiknopempti" (also known as Charred Day, Fat Thursday or Barbecue Day) is maybe one of the most beautiful days of the year in Greece, especially for those who love meat!
We may not know the exact origin of Tsiknopempti – although it is assumed that it originated from bacchic festivals celebrated by the Ancient Greeks and Romans – while the characteristics of its celebration vary throughout Greece.
However, there are three essential characteristics of the Tsiknopempti's custom that apply in all local Greek communities: abundant meat, company and alcohol!
If you have decided to celebrate this year the custom as a host, inviting your friends to your house, consult our complete guide to get the perfect organization and the desired BBQ results to keep all your friends satisfied!
1st Step: Creating a Guest List.
As a first and basic step for a perfectly organized Barbeque is to create a guest list. In this way, you will avoid any unpleasant "surprises" such as running out of food or drinks! Additionally, it is suggested you address each friend personally and note their preferences so that no one is left disappointed or…hungry! Creating a guest list will also help to the further organization, such as getting the appropriate number of plates and glasses, extra stools and chairs or even an extra table.
Extra tip: Get plenty of disposable plastic or paper plates and cups. This way, you will not have to worry about dishwashing. Place 2-3 bags where you will collect them and finally throw them in a recycling bin.
2nd Step: Decide where the Barbeque will take place.
Organizing the BBQ properly requires the right place too! Decide whether you will have the barbecue in your terrace or your garden and of course, where you are going to set the table for the feast!
Since the weather is favorable and you choose to have the barbecue and feast in your garden, then it is advisable to do some preparations. Take care of your garden! More specifically, take care of the flowers and the grass, put some lights around your garden, "dress" the table with a pretty tablecloth with plates and glasses for the feast while you can also use the lounge setfor your friends to have some coffee while you are preparing the barbecue.
Read our article with tips for an ideal garden here and proceed in proper preparations!
3rd Step: Share the tasks.
One person certainly cannot keep up with everything and of course, not everyone knows how to barbecue. Therefore, it is suggested you share the tasks with your friends, i.e. who is going to be the grill master, who is going to prepare the side dishes (dips, salads, potatoes), who will set the table, etc. Surely, your friends will be pleasant to help with organizing and running the Barbecue!
4th Step: Preparing the meat and the grill.
Several hours before (or even better, the night before), marinate your meat and keep it in your fridge There are no specific rules concerning the marinade, as you can use anything you want, depending on your tastes (from oil and lemon, vinegar, herbs and spices to mustard, ketchup or even some fruit or vegetables). Marinade will help your meat to tenderize and get roasted faster, keeping it juicy and with special flavors.
Extra tips: do not use salt while marinating the meat nor at the beginning of roasting it as it will get dry and chewy. For better results, salt it at the end of roasting! ! In addition, take the meat out of the fridge at least one hour before starting barbecuing so that it will defrost and thus get roasted evenly!
Choose the type of grill that you are going to use (with charcoals or liquid gas) and get the appropriate equipment (charcoals, tinder or gas). Of course, prepare the grill rack and oil it before starting barbecuing!
5th Step: Gather all the essential BBQ tools at your side.
You have set up the grill and you are ready to begin barbecuing! However, make sure you have all the essential BBQ tools at your side for easy and immediate access at any time. Otherwise, you will have to constantly walk away from the grill, at the risk of burning the meat.
One big fork, tongs and one spatula as well as a large baking dish where you will place the roasted meat are the necessary tools. It is advisable to have one spare baking dish in case you need to clean the one. Certainly, do not omit to wear an apron and gloves so that you will not get dirty or burnt.
6th Step: Side dishes.
Tsiknopempti may be the day of the meat, therefore, the stars of the table are the steaks, the sausages as well as the ribs, and however the meat needs the proper accompaniment. Salads (e.g. Greek salad, tabbouleh or coleslaw salad), fried potatoes, grilled vegetables such as mushrooms, peppers or corn and tzatziki sauce or picante cheese crème are the basic side dishes for the feast. Of course, you may prepare more appetizers, such as fava bean, fried cheese, grilled cheese, tomato balls, zucchini balls, etc.
7th Step: Have an adequate supply of alcohol and soft drinks.
Clearly, on Tsiknopempti's Day, alcohol and soft drinks cannot be absent from the table! Therefore, have plenty of beers, wine, "tsipouro" or "oyzo" (Greek alcoholic beverages) as well as various soft drinks, such as soda. Also, have plenty of ice cubes to serve tsipouro or oyzo with! And certainly, do not forget to always have jugs with fresh water and juices for the children on the table!
8th Step: Create the appropriate atmosphere.
You have organized everything as far as the Tsiknopempti Day's feast is concerned. However, the feast also needs the right atmosphere so that you and your guests can enjoy yourselves to the full! Put the music of your choice loud on speakers, have board games at your disposal and "wear" your best mood!
You can also wear your carnival costume to get into the spirit of the carnival days! Especially if there are children, creating a carnival atmosphere is the best idea!
We are waiting you at our "Best Shop" stores in Skopelos and Skiathos islands, where you will find everything you need for the right organization and handling of BBQ on Tsiknopempti's Day. Our experienced personnel is ready to provide you with valuable advice and guide you to the optimal purchase of products.
Thank you for your preference! Have a Nice Barbecue Day!