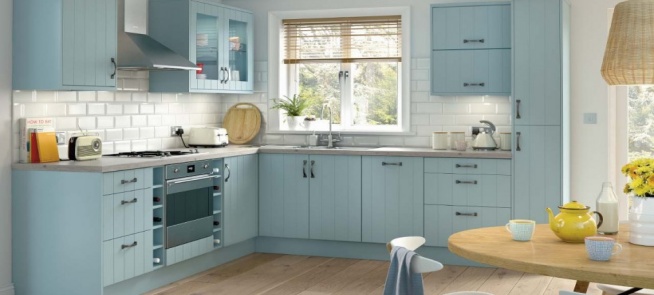 Kitchen Remodeling Ideas: How to transform your kitchen?
The kitchen is one of the most favorite rooms in a house, especially for those who love cooking thus spending plenty of hours there. However, there comes the time when you may feel you are bored with its layout or decoration and want to refresh it with some changes or adding some fresh "touches".
Below, you will find several ideas that will help you with renewing your kitchen, always in accordance with your personal tastes, while their results will undoubtedly amaze you!
#1 Renew the Cupboards
A key change in your kitchen in order to make it seem as new is renewing the cupboards. Of course, you do not have to rip them out and install new ones. You can just paint them or even wallpaper them. In case you choose to paint them, we suggest you choose an intense color, e.g. red or green (vert amande), provided you have applied primer beforehand. Extra tip:Are you a vintage lover? Then it is recommended you use chalk paint which will offer your kitchen a romantic or boho style!
If your kitchen has glass-fronted cupboards, then you could either paint or wallpaper their inside to make them eye-catching.
One more idea to refresh your cabinets is to leave them open! Just remove their doors, apply a beautiful wallpaper with intense color and patterns inside and give them the retro style you want! Of course, you can leave some cabinets open while keeping others closed with items that you do not want to be visible.
Have the doors of several cabinets wore out over time or you are just bored of them? If you neither want to replace them nor leaving them open, then you could put curtains! Hang a piece of fabric/curtain on any cabinet you want –ideally on low cabinets- and offer your kitchen another style!
Another great idea is to paint some cabinets with chalkboard paint color! Except for the aesthetics it will give to your kitchen, painting the cabinets with chalkboard paint is also practical as you will be able to make various notes, such as the content of each cabinet, the list for super-market, leaving a message to your loved ones or even noting the ingredients and execution steps of a recipe.
#2 Renew the Tiles
Another change to radically freshen up your kitchen is to renew its tiles. Of course, you do not have to rip them out but you can succeed this through simple and economical steps.
Initially, you can apply them a special paint for tiles.. The procedure is simple, but with impressive results! Alternatively, you may apply chalkboard paint color, i.e. on the wall tiles over your countertop which will offer a modern touch to the room while simultaneously facilitating you in many ways that we analyzed above.
In case you desire an even simpler process, instead of painting them, you could use special stickers for tiles that you can stick on several parts of your kitchen. Choose among a wide range of stickers with countless colors and patterns that will surely transform your kitchen in a way that suits your own personal tastes!
#3 Put Color in your Kitchen
We have already talked about refreshing the cupboards and tiles in your kitchen in various ways, however you could put more color in the room so as to accent it to a greater degree. . For instance, you can paint the chairs in your kitchen in an intense or retro color, e.g. yellow or green and get crockery, glasses or cookware with a corresponding color –especially if you have open cupboards, then this is a great choice! Additionally, get kitchen towels with color and patterns and hang them on the walls, giving to your kitchen this way their own colorful touch.
You may add more colorful touches in your kitchen, such as by hanging various decors on the wall, e.g. paintings or putting a carpet with color and pretty patterns.
Certainly, you can hang a curtain with color on the window of your kitchen, intensifying this way the aesthetics of the room.
Last but not least, paint the walls of your kitchen that are free from tiles! An ideal color for the kitchen walls is the intense red color which boosts the energy and creativity while it whets one's appetite. On the other hand, if you desire something more discrete, just prefer a light green (vert amande).
#4 Make your Kitchen…Green
As we all know, plants breathe a sense of relaxation and wellness, not to mention if we have them in our house! In case you have already considered putting indoor plants, we highly suggest you place some of them in your kitchen too!
There are plenty of reasons to put plants in your kitchen. First and foremost, they will accent its aesthetics, providing it with a touch of "nature" while simultaneously offering an air of freshness and aroma. Moreover, green contributes to one's relaxation after a long day and at the same time, it is a source of inspiration and creativity, two essential elements especially for those who love to experiment with cooking.
Another reason why every kitchen should have plants is their practical application In other words, get some plants and herbs that you could use while cooking or for your infusions. What could be more delicious than some fresh just-chopped parsley in your meal or a cup of sage infusion made of sage just picked from your pot? Their intense aroma, beneficial properties and freshness will surely blow you away!
You can read more about indoor plants in the kitchen here!
#5 Change the Tap
It may seem a trivial change, however changing the tap of your kitchen sink will indeed make a difference Especially if the tap of your sink is very old, you can replace it with another new one, preferably made of copper or bronze and you will immediately notice a sense of luxury and modernity in your kitchen!
#6 Update your Kitchen Lighting
Definitely, we cannot omit the fact that updating the lighting of a room will accent it to a greater degree, creating a totally new atmosphere. Likewise updating the kitchen lighting is a very important part of its remodeling.
Firstly, in case your kitchen has a pendant light, you could change it by choosing a new one that will, in turn, alter greatly the aesthetics of the room. There are numerous designs and colors of pendant lightings, therefore you will certainly find the one that suits best the style of your kitchen!
Are you looking for a more radical change in your kitchen? Then, you could opt for recessed ceiling lights. Recessed lights will give you the sense of "opening up" the room while they do not need as much cleaning compared to pendant lights. Furthermore, recessed lights can create an enchanting, romantic atmosphere, ideal for having your dinner with your beloved one!
Installing under-cabinet lighting is also highly recommended as it will create an ambient atmosphere, not to mention that it facilitates one's tasks when working on the countertop of their kitchen. For an under-cabinet lighting, you can install LED strips, recessed fluorescent lamps or recessed spotlights.
A table lamp could also contribute to the creation of an ambient atmosphere in your kitchen while eating dinner with your beloved ones! Indeed, table lights are not just for the living room or bedroom! Place the table lamp in a corner of your countertop along with a plant or a décor. Otherwise, you can have it at a convenient spot where it will help you with tasks, e.g. besides your kitchen stove or where you tend to read cookbooks or prepare your meal.
Finally, do not forget that the natural light is very crucial for every room! So, open up the curtain of your kitchen, especially on sunny days, so as to let in plenty of sunlight!
Whichever change you may choose concerning the kitchen lighting, it is important to install it in the right place so as no shadows will be created when working, as this could even pose a risk, e.g. when using sharp knives or opening sharp objects, such as tins or using camping gases.Therefore, except for the aesthetics of your kitchen, you should take into consideration its appropriate lighting too.
#7 Apply Forged Cement in your Kitchen
Do you want to make even bigger changes in your kitchen? Should you consider a total renovation, we would suggest you think about applying forged cement. It is a technique you can apply to the floor, the countertop, the wall or even the sink of your kitchen. This is an ideal solution to go on as it is economical compared to other techniques (e.g. tiles) while it is very easy to clean and is highly resistant to high temperatures. Depending on the color you will choose, the forged cement will provide your kitchen with a modern tone or a minimal or traditional style, suiting your personal taste!
You can read more about the forged cement technique here!
We are waiting you at our "Best Shop" in Skopelos and Skiathos islands with a wide range of products and items that are essential when it comes to renewing a room of your house. Our experienced personnel is always at your disposal to provide you with valuable advice and guide you to the optimal purchase of items that will perfectly reflect your personal desires and preferences!
We would be glad to serve you!